Cyber threats become more sophisticated with every passing day so cybersecurity solutions for small companies in Colorado are more critical than ever before. Cybercriminals continue to target small businesses worldwide; unfortunately, Colorado companies are no exception to this trend. A cybersecurity breach can be disastrous for a small business, leading to loss of revenue, damage to reputation, and potential lawsuits.
Here are the best cybersecurity solutions for small companies in Colorado.
Data Security
Data security is critical to the success of Colorado small businesses. To stay relevant, they must protect sensitive data like customer credentials, financial data, and intellectual property. Data breaches can have serious consequences – including legal liability, loss of reputation, and financial losses.
One of the best cybersecurity solutions for small companies is the use of encryption technologies to protect data. Encrypting data ensures that unauthorized individuals are unable to access valuable information.
Additionally, installing and properly configuring firewalls and antivirus software can protect data from cyber threats.
Application Security
Because many cyber threats target vulnerabilities in software applications, application security is a critical aspect of cybersecurity solutions for small companies. Small businesses must ensure that the apps they rely on to keep their vision moving forward are secure and up-to-date.
Small businesses in Colorado can protect their applications by utilizing secure software development practices, intrusion detection systems (IDS) and intrusion prevention systems (IPS).
Endpoint Security
Another cybersecurity solution for small companies is endpoint security. This involves ensuring that all devices with access to their network are secure and up-to-date – laptops, desktops, and, yes, even mobile devices.
Endpoint protection software provides antivirus and anti-malware protection, as well as intrusion detection and prevention.
Related: Are Deficiencies in Technology Affecting Your Small Business?
Network Security
Since many cyber threats target network vulnerabilities, network security is a crucial component of cybersecurity solutions for small companies.
Put simply, a secure network is a protected network. Small businesses ensure secure connections between remote workers and the company network using firewalls, IDS and IPS, virtual private networks, or VPNs.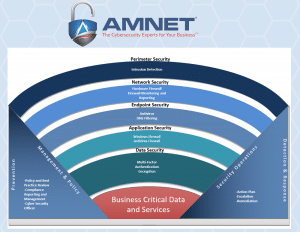 Perimeter Security
Perimeter security is the outer layer of defense for small companies, and in cybersecurity terms, that includes firewalls, IDS, IPS, and monitoring.
But perimeter security should also include physical measures like video surveillance and access control systems. Access control and cybersecurity are two parts of a whole security solution for Colorado small businesses.
The Role of Management and Policy in Cybersecurity
One of the most effective cybersecurity solutions for small companies in Colorado is implementing a solid management policy, including best practice review and compliance reporting policies.
Providing all new hires with a clear cybersecurity guide that outlines the latest guidelines and regulations for the company's industry and their specific requirements is a great place to start.
In addition, smart small business owners will invest time and energy in regular training sessions to educate employees on the latest cybersecurity threats and best practices and regular compliance reporting to ensure that all employees adhere to company policies.
Additionally, implementing access control management policies can provide reassurance that only authorized employees have access to sensitive data and information.
Detection, Escalation and Response Plans are Essential
While prevention is crucial in cybersecurity, detection and response plans are equally important. Small companies should implement detection and response plans that include escalation and remediation processes.
Detection requires regular monitoring of company networks and systems to detect potential threats and protocols for responding to these threats.
Escalation plans ensure that management can take immediate steps to protect the company's assets and reputation when a threat is detected.
Remediation plans guarantee that any damage caused by a cyber attack is quickly and effectively halted and repaired.
Amnet: Colorado's Trusted Cybersecurity Solutions Provider
Does this information seem like a tall order for a small company with limited resources? If so, we want to tell you a secret that successful small businesses in Colorado have known for a long time – you don't have to navigate the complicated and ever-changing world of cybersecurity on your own.
As Colorado's trusted cybersecurity solutions provider, Amnet provides expertly managed IT services for small businesses in all industries. We can help your small business to develop and implement the best cybersecurity solutions to protect your business from cyber threats.
If you're a small business owner in Colorado, don't wait until it's too late to protect your business from cyber threats. Contact Amnet today to arrange for your free consultation for expertly managed IT services and cybersecurity solutions.