In our Colorado winters, we often layer our clothes to protect us from the cold. The same goes for IT network security: the more layers you have, the better the protection.
Maybe a managed service provider has tried to sell you on paying for a layered approach to data security, but you wondered whether they were trying to squeeze you for more money … or if you really did need it.
Let's take a closer look at the 5 layers Amnet has to offer to better understand how a multi-layered approach to your security will help protect your organization.
First, What Layered Security Is
Before we discuss whether your company needs layered security, let's first talk about what it is.
Your IT system faces many threats; from being hacked to losing important data. Often, one cybersecurity measure doesn't adequately protect against all threats, especially with new viruses popping up all the time. And these threats are expensive: by 2021, it's expected that the global cost of malware will be $6 trillion.
Being proactive with layers of security is your best defense, with each layer addressing and protecting different vulnerability points of your IT infrastructure.
What It Isn't
To be clear, layered security isn't installing multiple versions of the same type of security software. Having two antivirus tools on your computer, for example, doesn't protect you from all the threats that make your system vulnerable.
Why Amnet Offers 5 Layers of Protection
Each managed service provider may offer a different number of layers of network security, but Amnet offers 5.
Why 5 layers?
Today's IT systems can be exposed to vulnerabilities in different areas. Because web and mobile apps are fairly easy to hack (60% of internet attacks target web applications), they're one area of focus for a security layer.
And now that we rely on technology to spend our money, there are even more ways for hackers to get access to sensitive financial data. With the increasing number of ways IT systems can be infiltrated, it becomes necessary to take a multifaceted approach to network security.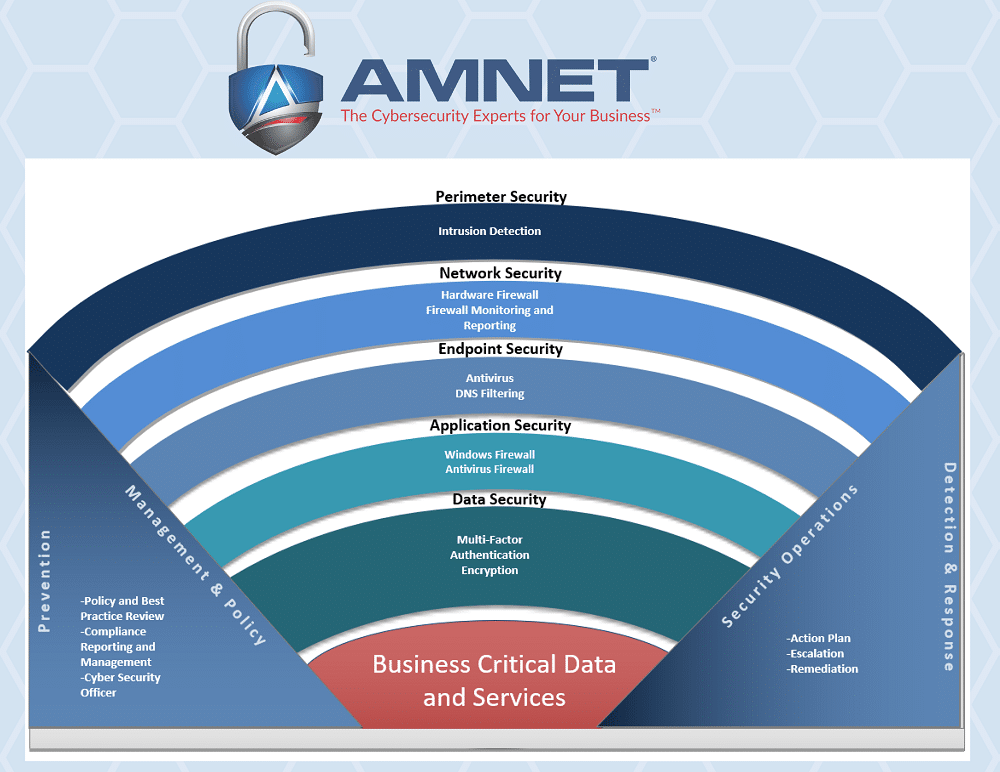 At Amnet, our layered approach includes:
1. Perimeter Security
This is the outermost layer of protection and offers visibility intrusion detection. Essentially, tools in this layer monitor network traffic for anything unusual and report issues to the administrator.
2. Network Security
Most businesses are more familiar with this layer of security. It includes things like hardware firewalls and firewall monitoring and reporting. At Amnet, we have separate tools and processes for network security than for the other layers, so we can offer geo-specific protection customized to our clients' needs.
3. Endpoint Security
Now that so much of the workforce accesses an organization's systems remotely or uses its own devices for work-related activity, it's essential to shore up defenses on every device. Both antivirus software and DNS filtering fall under this security layer.
4. Application Security
Applications, both mobile and web-based, are also at risk in an organization. This layer of protection includes Windows and antivirus firewalls.
5. Data Security
We've been circling down to the most important aspect of your business: data. Here, we look at what the main identity security risks are to your organization, and use tools like multifactor security, authentication and encryption to protect your data and passwords.
We deploy 5 layers of security to ensure our clients are safe at every level. With Amnet's time-tested approach to cybersecurity, you can take control of your security plan and keep your spending in check.
Schedule a consult with Amnet and we will look at your current cyber situation and help you decide what approach works best for your organization.