Computer Network Services
Colorado's Office Network Experts
Computer Network Services in Colorado
If you are looking for a locally-owned and managed IT computer network services company that understands the importance of reliable information technology support and access to your organization, then you are in the right place!
We service businesses, government offices, and organizations of all sizes in Colorado Springs, Denver and surrounding areas.
Your success is our focus.  As your IT partner in making your IT and computer network-based capabilities a competitive advantage for your business, we take the time to understand your organization and listen to your concerns. Our goal is to establish a long-term, win-win relationship.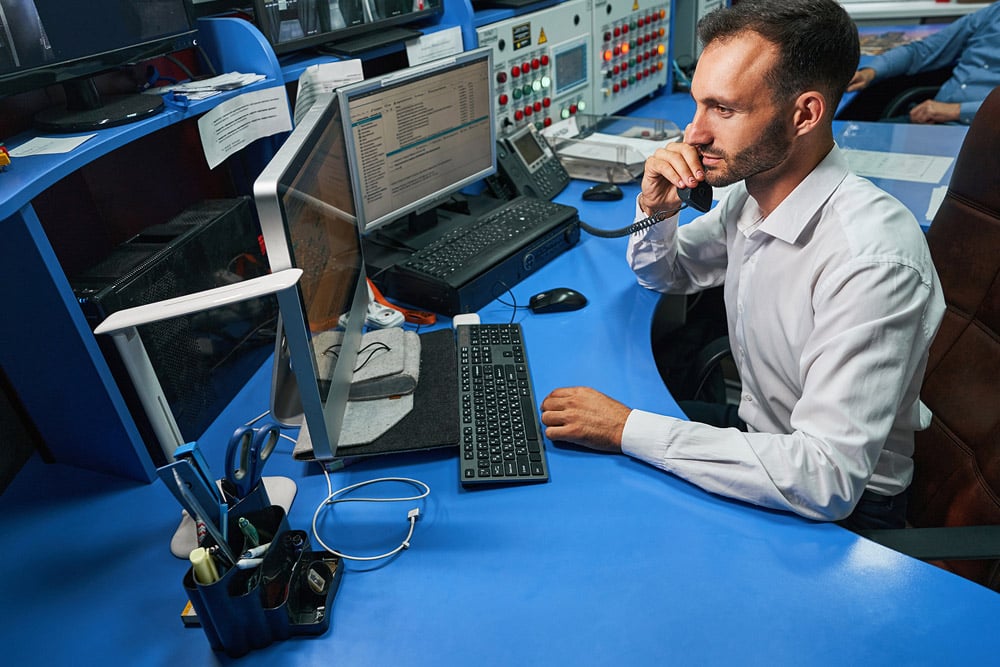 Benefits You Receive
Why is Amnet the Best Computer Network Service Provider in Colorado for Your Organization?
Top-Rated Network Services for the Colorado Front Range
Computer networks are the backbone of many Colorado Front Range businesses. An organization's IT infrastructure allows employees to share files and devices, streamline processes, and connect remotely.
If your business uses computers and the Internet, it's essential to your profitability to keep the network and attached computers and devices operating smoothly. Otherwise, productivity will suffer and you could risk data security or a network failure that could result in downtime or even an outage.
Operating a computer network requires regular monitoring and maintenance as well as support services when something fails or new technology is introduced. Unless you're a certified IT professional with lots of time to spare on your company, or you have other employees with extensive technical knowledge who are willing to spend time managing the IT department, it's probably best to hire a local Colorado Front Range managed IT service provider like Amnet to make sure your system stays running optimally.
Managed Computer Network Monitoring
One of the first things a managed information technology support service should do is set up monitoring software. This software will track the health of the IT infrastructure, including all PCs, servers, printers, scanners, Internet of Things (IoT) and other information technology devices.
Monitoring your network will help you catch potential issues before they become critical problems. Effective monitoring can prevent unplanned outages, speed up problem resolution, and reduce costs. Managed computer network monitoring also allows you to track and report on the health of your network. This can include elements like bandwidth and performance, server availability, and data usage.
Monitoring your network can also be helpful during network changes. If you're adding new devices or migrating to a new service, monitoring can help you track progress, identify potential issues, and keep track of any compliance and regulatory requirements that apply to your network.
Managed Computer Network Support
As part of providing managed computer network support, a local IT support service provider in Colorado will respond to any critical issues that arise, such as an outage or a security breach. Managed computer system support also involves regular maintenance, such as updating device software, upgrading hardware, and installing patches and security updates.
A managed IT support provider with cybersecurity expertise can help with defining and implementing your network's strategy. This includes everything from upgrading your network to work with new technologies, such as the Internet of Things (IoT), to upgrading network hardware or adding new hardware.
Managed computer support services can help you plan for the future. While computer networks do need to be maintained regularly, it's also important to keep an eye on new technologies and hardware so you can plan for upgrades and replacements as they become necessary.
Cybersecurity
Network security is a critical part of any IT support service. A managed IT support service will help you establish and maintain a secure network by regularly performing security updates, monitoring your network for suspicious activity, and reviewing your network's overall security strategy.
Managed information technology security services can also help you plan for the future. As a top-rated IT service provider for the entire Colorado Front Range, Amnet can help you determine when you need to replace certain devices or add new security features.
Having this level of cybersecurity expertise on your team can help ensure your network continues to be secure over time. Managed computer security services can also help with compliance and regulatory requirements. If your network is used for storing sensitive information or connecting to other networks, regular security updates are necessary to ensure it isn't vulnerable to security breaches.
Other Benefits of Managed Computer Network Support
Managed computer support can also help improve your company's overall reputation by ensuring your network stays up and running smoothly.
A reliable and powerful IT infrastructure  can help reduce the risk of customers leaving bad reviews because of network outages or performance issues.
Managed IT support can also help improve employee satisfaction. This can include things like helping employees learn how to use the devices on your network, providing regular device support, and providing onsite support when necessary. Managed computer network support can also help you stay on top of new technology. This is especially important when it comes to new kinds of devices, like IoT devices, which may require significant changes to your network.
Frequently Asked Questions
What is computer network support in terms of businesses and organizations?
Computer network support companies analyze, troubleshoot, and maintain the IT infrastructure for businesses and organizations. Managed IT support specialists assist computer users and organizations. These specialists either maintain networks or provide technical help directly to computer users.
How do managed computer network support services help businesses?
Managed network support services help businesses in three main areas:
First, monitoring the network ensures the health of the IT infrastructure, catching potential issues before they become critical problems.
Second, maintenance of the computer network keeps device software and hardware up to date and secure. Maintenance is also involves quickly responding to critical issues that may arise, such as network outages.
Third, managed computer network support services are vital to cybersecurity. By monitoring the network for suspicious activity and providing support for compliance and regulatory requirements, IT support services keep data secure.
Click to schedule a meeting or give us a call and your IT headaches will soon be a distant memory.