At Amnet, we know successful Colorado businesses need a multi-factor authentication service provider who can manage access to their networks and protect their valuable data and reputation.
Let's face the facts – with every passing year, the need to protect your business network grows exponentially. Recent projections of the cost of cybercrime are $8 trillion in 2023 and $10.5 trillion by 2025. Therefore, businesses must proactively protect themselves from hackers with a layered cybersecurity approach.
Southern Colorado companies that rely on out-of-date, set-it-and-forget-it cybersecurity tools quickly learn that they are no match for sophisticated modern hackers who continually change their techniques in response to evolving efforts to keep them out.
Fortunately, a thoughtful IT security plan and common-sense proactive security measures from a multi-factor authentication service provider can do much to combat your company's risk.
You Might Like: How Can You Protect Your Business From Hackers?
What Is MultiFactor Authentication?
Multi-factor authentication (MFA) and its subset, two-factor authentication (2FA), requires users to input multiple pieces (factors) of information, such as strong passwords as well as at least one other verifiable piece of information, before allowing access to a secure system.
Requiring all password logins to be authenticated with a phone call, code, or security question helps ensure that intruders gain access to your network, even if they've found a login and password through a data breach or email phishing campaign.
How MFA Protects Your Network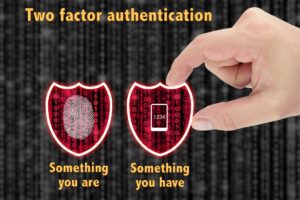 A multi-factor authentication service provider can offer one of the least expensive and most reliable ways for Colorado businesses to protect sensitive data and other company assets. Along with tools like spam filters, intruder protection and VPNs, MFA should be part of any baseline cybersecurity guide for employees.
Just as these other tools are now second nature to users, MFA can and should be an automatic step for your staff, contractors, and anyone else who needs access to your network. Indeed, many users prefer to use MFA, according to one survey that reports nine out of 10 individuals feel two-factor authentication provides additional online security.
With the number of individuals working from home on insecure home or public networks, a multi-factor authentication service provider like Amnet can extend your office's layered security approach by proactively protecting passwords and safeguarding company assets.
Related: Four must-Have Managed IT Services for Colorado Businesses
MFA Options for Small Business
As MFA becomes a more common practice, several free and paid network cybersecurity solutions are becoming available. These solutions can be scaled depending on the size of the company, their needs and a variety of other security requirements.
For instance, if your company is G-Suite-based, Google Authenticator is easy to use and free on various platforms. The downside of Google Authenticator is that the service is entirely self-managed.
If your company already uses a Microsoft Office 365 premium or enterprise plan, you can enable conditional access policies or Azure AD Identity Protection – all of which is customizable to the needs of your business.
These solutions are effective, but at Amnet, we recommend Duo, a scalable, cloud-based option from Cisco that's easy to deploy in any situation, regardless of your current technology.
How A Multi-Factor Authentication Service Provider Can Help
There are several steps to a successful MFA policy that your IT team may not have the expertise, or more likely, the time, to properly implement.
First of all, they must determine how to integrate this simple network cybersecurity solution with your organization's existing suite of cybersecurity tools. Standard integrations include email and cloud-based apps, but your industry may have specific compliance requirements, like those in the financial or healthcare sectors.
Second, once your IT team selects which programs will integrate MFA, the next step is determining which individuals across your organization need to implement the technology. Remember, the more people using MFA, the more robust your protection against cyber threats.
Depending on existing technology, staff can generate a multi-factor code with an app on their phone or by using a token, answer a security question or receive a text with a randomly generated code.
Amnet: Expert Multi-Factor Authentication Service Provider for Colorado Businesses
If your IT team is stretched thin or if you don't have the expertise to integrate MFA strategies alone, you may want to consider outsourcing IT support. Amnet has provided expert cybersecurity advice and assistance to businesses across Colorado since 1998. Our multi-factor authentication service provider skills can help you set up, test and scale MFA to be the network cybersecurity solution you need to stay competitive in a digital world.
As Colorado's leader in managed IT services, we will provide everything your company needs – from administrative assistance to user training – to help boost compliance and minimize the learning curve as your staff adjusts.
Want to get started on a cybersecurity plan that is ready for whatever cyber crooks have in mind? Contact us today for your free security gap analysis.