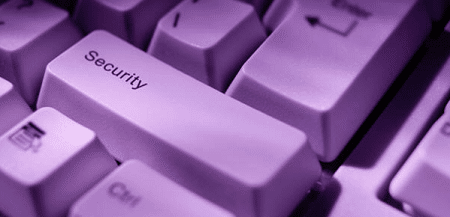 Batten Down the Hatches!
The past four entries to this series have shown us what we shouldn't do when on the Internet. Now, what proactive steps can you take to make sure you're safe while surfing?
Firewall
If you have a home Internet connection, chances are that it's cable or DSL. If it is DSL, most likely you have a hardware firewall in place which offers a level of protection. Cable connections, however, are usually connected to your system with a cable modem that may or may not have built-in firewalling. In either case, it's a good idea to purchase a third-party firewall (or a router with firewall capabilities) for your home system which will offer a layer of protection between the Internet and your home computer or network. Consumer brands of Linksys, Netgear, Cisco and SonicWALL are recommended.
When you're not at home, or if you do not wish to purchase a hardware router/firewall, enabling the Windows firewall is the bare minimum step you should take on your system. All versions of Windows (XP and newer) will have an icon in the Control Panel for the firewall. Enable this and make sure that the exceptions listed do not expose your computer too much even when the firewall is enabled.
There are numerous other software firewalls which you can install such as ZoneAlarm, Norton Personal Firewall, or Comodo Firewall, but you may have mixed results and conflicts with the native Windows firewall. The level of protection you take her is entirely your choice, just be wary of layering your security.
Antivirus
Antivirus is mandatory for any operating system. It used to be that Windows operating systems only were the targets of malware attacks but this is no longer the case. Apple operating systems and Linux distributions are now targets of attacks the same as Windows hosts. With that said, there are numerous mainstream solutions available from a number of vendors. For my personal choice, I select software that is antivirus-only, not a suite of protection options that handle malware/spam/pop-ups/firewalling/antivirus.
Here are some mainstream offerings for home usage:
You will find numerous other antivirus solutions on the Internet, both free and paid, but it would be recommended to stay with a mainstream offering. This will ensure you're with a company that is keeping their product updated regularly and sending definitions to your system from the most current threats.
Other best practices to keep in mind with antivirus include:
Schedule regular updates within the software for both definitions and the program itself.
Setup scheduled scans to check your entire system and enable them for times when you're not using the computer.
Make sure that real-time scanning is enabled for the computer and for floppy disks, USB drives, and CDs/DVDs.
When faced with a threat, choose to clean it first. If that doesn't work, quarantine it. If you're able to determine if it's a non-critical file, you may choose to delete the threat altogether.
System Updates
Almost as important as antivirus is making sure that your workstation has the most critical updates from the operating system manufacturer. Within Windows 7, you can manage how updates are handled by going to your Control Panel and selecting Windows Update. Here you can choose how you wish to handle updates and when you wish to have them installed. After you set the updates and configured the time, make sure to leave your computer on during that period so that your system can install what is necessary. Be aware that your computer may reboot automatically so save any work you have open during the update time.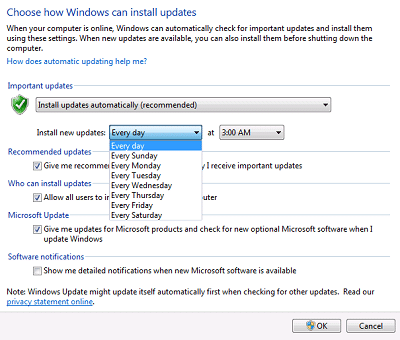 Backups
Your data is the most critical portion of your workstation and it should be protected by being stored in at least two different locations, one of which is your computer system. Consider what you would have to recreate if the hard drive in your computer died. Whatever you cannot afford to lose, back it up.
Windows has native backup software that can handle data backups to local resources. Windows 7 includes the ability to backup to network shares and DVDs.
For extra backup security, it is recommended to have your data backed up off-site. There are a number of services on the Internet which handle this. Most offer a certain amount of space for backups for free with increased space and functionality for a low monthly cost:
• Mozy – http://www.mozy.com
• Carbonite – http://www.carbonite.com
• iDrive – http://www.idrive.com
• CrashPlan – http://www.crashplan.com
• Dropbox – http://www.dropbox.com
There are many other backup services so shop around and see what meetings your needs and your budget. Some of these services handle backups for single computers only, so if you have multiple systems with critical data, make sure you know what you're picking.
Depending on how computer savvy you are, you may want to look at a backup solution which does a complete image of your computer system. Having an image will allow you to restore the entire contents of your system in the event of a hardware failure and have a working computer system without reinstallation of Windows. Obviously, this will use more space for storage, but it might be useful for you to consider.
Conclusion
I hope you've gained some helpful information from this series. Should you have questions on these tips or any other computer-related questions, feel free to post them here