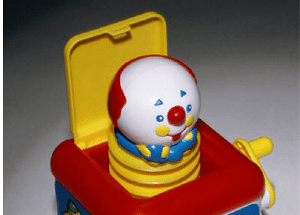 Things that go POP in the night
How often have you experienced this scenario? You open your favorite web browser and start going to different sites on the Internet. After a few minutes you notice that a number of other windows have opened up. These windows are advertising other products, some based on the sites you've just visited. You close one of the windows and another opens up in its place. To make matters worse, these windows start opening a new window every few seconds. Welcome to the world of pop-ups!
While often annoying, pop-ups on websites can be far more dangerous than a simple web page. Pop-ups can make obnoxious noises, contain video, display pornography, and say your computer system is infected with malware or viruses. Yes, malicious intent is occasionally the purpose of some of these ads, particularly those that pop-up continuously after closure.
Most web browsers today come with a built-in pop-up blocker. Add-ins such as the Google Toolbar also contain a pop-up blocker. However, no amount of prevention will automatically make you completely invulnerable to pop-ups. Knowing how to deal with them when they appear is a great place to start. Knowledge is power!
When faced with a pop-up, one of the key things to remember is never click inside the box where the ad is located. Here is a prime example: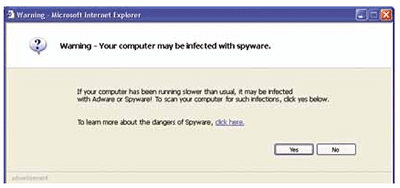 By clicking Yes to the ad above, you will be installing spyware software. Instead, either hold down your ALT key on your keyboard and tap F4 which will close that window. You may also click on the X in the upper-right corner, but be wary of ads like this: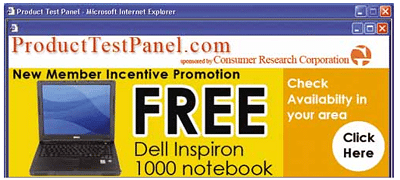 This particular ad has two X's in the upper-right corner. The bottom one is part of the ad. The top one will allow for the window to be closed.
If you are unable to close the ad without clicking into the ad, pressing CTRL+ALT+Delete on your keyboard and choosing Task Manager will allow you to end the task. The last option you really have is to leave the pop-up where it is, save and close out any other programs that might be open, and reboot your computer system.
If you've found that you've clicked on a pop-up, you might not have compromised your computer at that point, but care is still needed. Execute a full antivirus scan of your system and utilize a malware removal application such as SpyBot, Malwarebytes, or Combofix.
For more information, visit these links:
SpyBot: http://www.safer-networking.org
Malwarebytes: http://www.malwarebytes.org