Most of us use programs like Dropbox, Google Docs, and Microsoft daily. However, there is a wide range of great software-as-a-service (SaaS) and cloud-based programs that can improve efficiency. We've found 11 programs that are sure to be a crowd favorite at your workplace. Though some are not new, they've recently been updated to provide a wider range of services and features. These cloud services apps are perfect for small companies as well as larger organizations.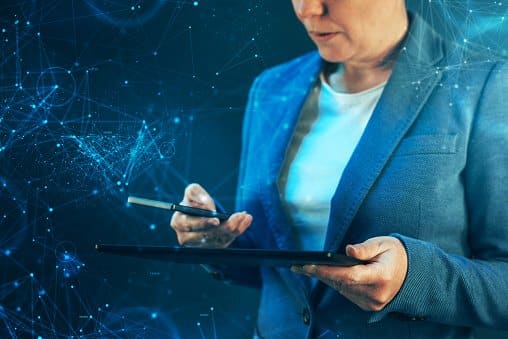 Each program solves a real-world business problem that many of us have experienced, and that's no doubt the key to building a great app for business: it needs to solve a problem. Good apps that people download and use must be helpful. They must include benefits such as making your job easier or helping workers get things done faster. That's another big plus for today's busy people. We're all multi-taskers who understand that we can't get everything done without some help from technology.
The last big feature that these apps have in common is that they require a very small investment. For just a few dollars a month (in most cases), you can get apps that give you professional document management, cloud-based document backups, marketing campaigns, social media management, and many other services. Below are 11 apps that will improve your workflow and save valuable time.
Free version: Up to three workflows
Plus program: $13 per month
Approval Donkey is a cloud-based approval app that automates getting approvals on projects of all types. This app can be set up to move a project along a pre-defined chain so that there are no bottlenecks. It integrates with hundreds of other apps, making it a real bonus. Whether you're dealing with admin, accounting or any other project, you can rely on the Approval Donkey to ensure each stage of the project gets the proper approval before moving on to the next stage. The app provides the current status of any project's approval so you can quickly find out where the project is.
Free version: Up to 15 members, limited features
Paid version: $9.99 per month
Asana is a new project management app that provides easy project organization across teams. It can handle everything from tracking and reporting to conversations. Tasks can be managed for individuals, groups or larger teams. Asana has done away with clumsy project management tools that require numerous spreadsheets, emails, and Word docs. All project documents are embedded within the project and completely transparent to everyone working on it. The paid version is $9.99 per month, but there's an even more comprehensive Asana app that can be used in Enterprise organizations.
Cloud-based spreadsheet/ database
Free version: Store 2GB of data, manage 1,200 elements
Paid version: $10 per month, unlimited use
With Airtable, you can store, structure, and share information with other collaborators, allowing a team to work on the information in numerous forms. Airtable has a wide range of templates that let you structure your data any way you like. You can make it appear as a catalog, Kanban chart, inventory or however you need to suit your project. Airtable combines helpful features like those found in Google docs, Evernote, and Trello to help you manage information better.
Inexpensive cloud storage
No free version
Paid version: $5 per machine per month
Provides a set-it-and-forget-it backup system to store copies of local data in the cloud. Works for both internal drives and USB connections. This object-based cloud storage app is cheaper than most other cloud storage apps but still offers a rich API with good integration with other programs. Does not work with personal NAS boxes.
No free version
The paid version starts at $12 per month (includes one local number)
In the old days, a PBX system required a central box, intricate wiring, and telephones. It was a real hassle! But this Cloudphone can route calls like the old-fashioned PBX systems did. It includes conference calling, business voicemail, automated attendant services, and business phone numbers. It's an excellent solution for companies with many employees working from remote locations. Employees can work from anywhere while still using the corporate phone system. For $12 per month, you get one number and three extensions. For $49 per month, you can get five local numbers plus unlimited extensions.
Alternative to AWS
No free version
Paid version: Starts at $5 per month
This IaaS (infrastructure as a service) app allows users to create virtual machines in the cloud. This app works much the same as Amazon's AWS but is simpler. Good IT skills are still required to configure the app. It was recently updated to add cloud-based object storage. Users build droplets or virtual machines, adding RAM and processing power. Then, decide what region to run them in. Allows users to preload virtual machines with numerous configurations.
Marketing automation
Free version: Less than 100 subscribers
Paid version: Starts at $43 per month for up to 2,500 subscriber
This marketing automation tool is a list manager that automates customer interactions. Using email, users can send out a pre-written set of messages to customers or prospects. This app integrates well with lead capture tools and shopping carts. Create a drip campaign, then send out emails over some time to improve customer engagement. For fewer than 100 customers, Drip is free to use, but the price goes up as you add new customers. At $43 per month, you can manage up to 2,500 subscribers, sending out unlimited emails to them.
Social media management
Free version: Up to three social profiles
Paid version: $29 per month for 10 profiles
This is a familiar app that allows marketers to sift through the feeds on popular social media sites to find out what's important to their company. Hootsuite has become the go-to app for preparing corporate messages, interacting with consumers, or watching for important trends.  You can manage thousands of social profiles across various groups. You can manage and schedule social media posts and even measure your ROI. Hootsuite integrates well with hundreds of other apps.
Bug and issue tracking
No free version
Paid Version: $10 per month for ten users
Create a helpful database of bugs and software development problems with the Jira app. You can track how issues are being handled and their progress. Software development teams often use the app but it offers a wide range of agile team coordination tools. Developers can work together managing workflow and production. $10 a month for ten users is a great deal, but the price goes up to $7 for each new user you add. The app is scalable and can be used by enterprise organizations.
Manage mailing lists
Free version: 2,000 subscribers and 12,000 emails
Paid version: Depends on the number of subscribers and services
MailChimp works much the same as HubSpot and Drip. It helps marketing companies manage their mailing lists. Users love it for its easy-to-use Dashboard and for how well it integrates with other programs like the shopping cart and your blog. The company includes many cool tools for opt-in signup. Everything is fully automated once you get it set up. The free version offers a generous 2,000 subscribers and 12,000 emails, but the price increases as you add new subscribers and other services.
Turn-key e-commerce
No free version
Paid version: $9 a month for the lite version
Shopify is well-known as the most comprehensive e-commerce app available today. You can set up an online store and then use "chip and swipe" readers for Point-of-Sale registers. It integrates well with all social media sites, as well as shippers like UPS, Fed-Ex, and DHL. Though most consumers think of this app as primarily for Internet sales, it can also be used in brick-and-mortar stores or for small at-home businesses.
After the 14-day free trial, Shopify is $9 per month for the lite version and $29 per month for a basic plan that includes a wide range of services. While they do charge transaction fees for credit card processing, their fees are very competitive with other benefits.