What does it mean to be Cybersmart?  Since Colorado's Consumer Protection Act went into effect on Sept. 1, 2019, almost 3 dozen cybersecurity breaches affecting over 90,000 Coloradans have been reported to the attorney general's office.
And, although Colorado's breach law applies only to cyber incidents affecting more than 500 records, 43% of cyberattacks target small businesses. Despite the real danger to small businesses, 6 in 10 have no digital defense plan in place.
If your company falls into the 60% unprotected against cyber incidents, it's time to be Cybersmart and start the conversation about the importance of securing your business.
The First Step to Cybersmart – Start the Conversation
Cybercrime represents a real threat to local organizations, and, as the fastest-growing form of criminal activity, it's not going away. Now is the time to instill a culture of cyber awareness into your business.
As a Colorado cybersecurity services firm with decades of experience, we start with strategy and work with you to outline IT goals and a cybersecurity plan to protect your network without sacrificing production or busting your budget. Our approach to security also helps your employees be more aware of risks and cyberthreats.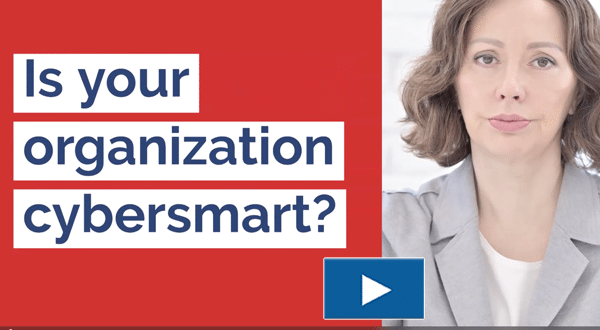 Watch our short video outlining how your organization can be more "cybersmart."
Make Your Employees Cybersmart
A solid, secure infrastructure is safe from cyber criminals – until you connect it to the internet and put people on the network. In the end, all of your planning and tools rely upon your team to make good decisions when it comes to email and internet behavior.
As cybersecurity experts for your business, Amnet's team of experts provides cybersecurity awareness training for your team so they become more aware of phishing attempts and malicious links on websites, as well as cybersecurity best practices like not downloading software from unknown sources.
With a self-service platform of 8 cybersecurity modules, your Cybersmart employees will learn cybersecurity tips and tricks and what to watch for with the latest threats. We even assess their ability to recognize phishing emails in live tests. One of our managed service clients tested their employees before training so we could compare their initial cybersecurity risk to the rate after training.
Tools for Strong Cybersecurity
Security toolsets are not one-size-fits-all. After discussing and understanding your needs, an experienced team-member of our managed IT services company selects the best set of security tools for your business using our layered security approach.
Amnet's layered security approach
Perimeter Security – this intrusion detection device monitors your network and systems for malicious activity.
Network Security – a hardware firewall that gives you the ability to control the flow of traffic into and out of the network.
Endpoint Security – antivirus software protects you from all kinds of malware, including viruses and ransomware. The DNS filtering component restricts user access to malicious web pages.
Application Security – Software firewalls protect you from outside attempts to enter your systems via individual computers.
Data Security – multi-factor authentication verifies user identities by requiring multiple methods of authentication for login or other transactions. An encryption layer encodes information so only those authorized can access the data.
With Amnet's time-tested approach to cybersecurity, you can take control of your security plan and keep your spending in check. Schedule a consultation with Amnet – we will help you evaluate your cyber situation and help you decide what cybersecurity approach works best for your organization.