You've invested in cybersecurity tools and measures and have all the necessary pieces and parts working together. Yet…your investment doesn't seem to be helping productivity in your organization, especially in today's work from home environment.
Maybe that's because employees haven't fully adopted new tools or practices that your managed service provider implemented, or because they don't understand the value of doing so.
How can you get your staff on board to support your IT goals without spending a ton more money?
1.     Start the Conversation
You may have been mired in the process of working with a managed service provider to protect your IT systems from vulnerabilities, but that doesn't mean your staff truly understands the why.
To them, it may just seem like you're creating obstacles for them to get their work done, and that kind of thinking can foster frustration and roadblocks to implementation.
Talk to your employees about the cybersecurity threats that are out there and how, if your system was breached, your business (and their livelihood) would be impacted. Help them understand why you've implemented the solutions you have. Empathize that it may be difficult for them to ramp up with new systems to learn but reassure them that you are doing what you can to make that transition easier through training (more on that shortly).
As much as you can, involve other key personnel in the strategy, budgeting, and planning conversations so you get their buy-in as well. You can't expect your staff to be excited about new processes if your executive team doesn't first give its thumbs up in support.
2.     Implement Tools Strategically
Your organization needs to have a layered approach to security that incorporates variables from high-level threat protection to end-user workflow needs. Deciding on the right tools takes expertise, so make sure you work with a managed service provider that understands your company's needs. No one system of tools works for everyone, and Amnet will find the right one for you.
Also include others in the decision-making process. This can help ensure that the tools you choose align with how teams will use them and can improve buy-in at every level in the organization.
3.     Execute Awareness Training
All your planning and tools rely on your team making good decisions – when people are on your network and on the Internet, no system is fail-proof. Having the right cybersecurity tools for your organization will only do so much; now you need your staff to adopt them. Empower them by training employees on cybersecurity, as well as IT best practices and any regulatory compliance issues that may apply to your industry.
When you have a layered approach to security, you need awareness training for every layer. Amnet offers ongoing training and a self-service platform updated annually that includes modules and testing for each layer: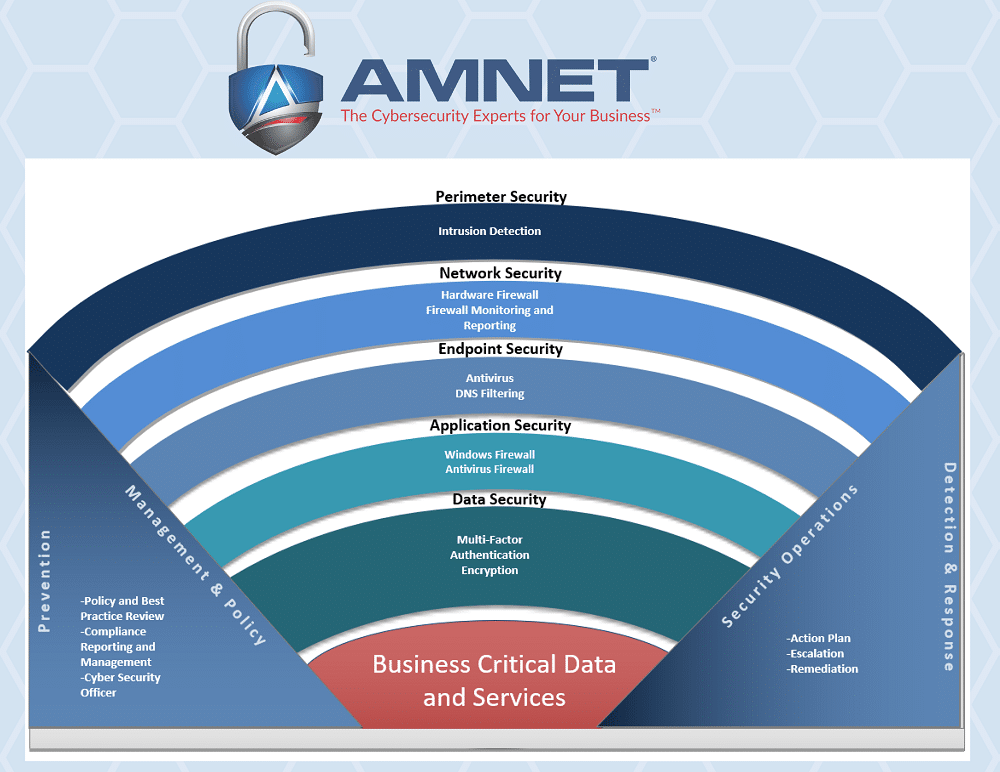 With Amnet's time-tested approach to cybersecurity, you can take control of your security plan and keep your spending in check.
Many of our training solutions can be implemented via a remote setting, perfect for those employees who are working from home.
Schedule a free consultation with Amnet, and we will look at your current cyber setup and help you decide what approach will work best for your organization.