HIPAA Compliance is Only Part of the Solution
If you are reading this article, you already know that HIPAA compliance is critical to IT solutions for healthcare organizations. While most industries have compliance rules and requirements, entities entrusted with patients' personal information have a greater responsibility to the American public to protect their personal information.
This article will provide an overview of HIPAA compliance and explore IT solutions to help healthcare organizations adhere to HIPAA rules and regulations and maintain their networks.
What is HIPAA?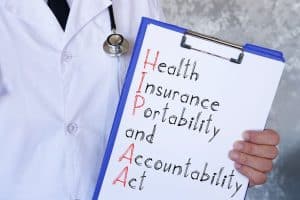 In the world of healthcare, patient privacy and data confidentiality are of utmost importance. Healthcare entities doing business in the United States must comply with HIPAA – the Health Insurance Portability and Accountability Act to protect patient health information.
Since the introduction of HIPAA requirements in 1996, streamlining administrative healthcare functions has resulted in greater efficiency and security. Healthcare organizations must now implement many safeguards to protect patient data and restrict access to authorized individuals. These safeguards range from technical to physical to administrative, providing patients with the right to access and control their health information.
HIPAA also requires healthcare organizations to comply with the HIPAA Privacy Rule, which sets a federal floor of privacy protections and rights for individuals to control healthcare data.
What is Involved in HIPAA Compliance
HIPAA compliance encompasses various aspects, including the purpose of HIPAA, protected health information (PHI), PHI identifiers, electronic protected health information (ePHI), covered entities, business associates, business associate subcontractors, business associate agreements, and the main HIPAA rules.
Because of the many layers of HIPAA regulations and the potential fines and reputation damage that result from non-compliance or data breaches, many companies in Colorado are searching for comprehensive IT solutions for healthcare data that ensure security and compliance.
Technical Aspects of HIPAA Compliance
Ensuring HIPAA compliance is a critical responsibility of any entity with access to patient records. By leveraging custom-tailored IT solutions for healthcare organizations, companies can effectively protect patient health information and mitigate the risks of data breaches.
Following are five crucial areas that require HIPAA compliance.
HIPAA Security Risk Assessment (SRA)
One of the most common areas of non-compliance with regulations is the annual requirement for healthcare entities to conduct a HIPAA Security Risk Assessment (SRA). These audits can identify vulnerabilities and provide opportunities to implement necessary security measures before they result in fines and reputation damage.
Smart IT solutions for healthcare data facilitate the SRA process streamlining and automating risk assessment procedures, ensuring compliance throughout the year.
Choosing the Right HIPAA Software
With over 100 software platforms on the market promising HIPAA compliance, determining which features are vital to your organization can be overwhelming.
At a minimum, we recommend our healthcare entity clients in Colorado demand the following specific features from their HIPAA software:
Robust security measures, including encryption, access controls, audit logs, and vulnerability scanning
Comprehensive privacy policies
Breach notification capabilities
Robust Cybersecurity Policy and HITRUST Certification
Of course, every Colorado company that conducts any aspect of their business online is susceptible to cybercrime. However, hospitals and provider organizations are particularly vulnerable to cyberattacks and need to prioritize cybersecurity.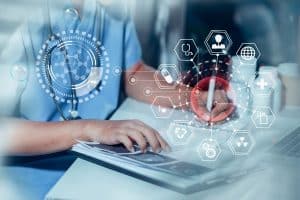 The cost of healthcare cyberattacks in 2023 rose to $10.93 million per incident. With so much at stake, the need for organizations to invest in cybersecurity measures is more significant than ever before.
The cybersecurity experts at Amnet recommend that healthcare entities invest their resources in obtaining HITRUST certification – the gold standard for compliance and risk mitigation.
The Best IT Solutions for Healthcare Organizations Are at Amnet
Choosing Amnet to manage HIPAA compliance and IT solutions for healthcare organizations is wise for several reasons.
First, Amnet is a locally managed IT services provider. This means we provide reliable and responsive computer support in Colorado Springs and up and down the Front Range. But our expertise goes far beyond installing software or troubleshooting (although we do that too). Our expertise and experience in managing HIPAA compliance ensures your data is secure and compliant with all applicable laws and regulations.
Second, Amnet believes in a proactive approach to data protection and HIPAA compliance. Our services include proactive monitoring and maintenance, ensuring potential compliance issues are identified and resolved quickly.
Third, Amnet provides IT solutions for healthcare organizations that ensure peace of mind – for the organization and the millions of users who entrust their personal information to these entities. Knowing that your electronic medical records system is monitored and maintained by experienced professionals dedicated to accuracy and efficiency can give you confidence and assurance that you comply with HIPAA regulations and other industry-specific guidelines.
Are you ready to see why Amnet is the best managed IT services provider providing IT solutions for healthcare organizations in Colorado? Give us a call today to schedule your free consultation and quote.