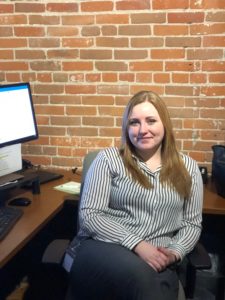 Where are you from?     
I was born and raised in Hudson, Wisconsin—easier said, the Greater Twin Cities area.
What did you go to college for and where?     
I attended the Art Institutes in Minneapolis for Film Studies and Broadcasting. After a year, I transferred to Century College in White Bear Lake, MN to finish my Associates degree.
What are your strengths?         
My biggest strength is building relationships with customers and clients. I am a people-person by nature and therefore enjoy being in Customer Service.
What do you love about Amnet? 
I love the family feel of Amnet. The culture here is warming and welcoming.
Why do you work in IT?    
I come from a background in sales and recruiting, so IT is a new ballpark for me. IT is an important industry to get into primarily because of its projected growth. Most businesses depend on technology for operation and in order to maintain business, it's imperative to have prompt consultation available to you when needed.
Please list your favorite(s):
Movie: By far, my favorite movie is Walk the Line. I also enjoy finding new scary movies.
Music: Typically, I'm listening to hard rock—some of my favorites include Motley Crue, Stone Sour, Avenged Sevenfold, Aerosmith, Foo Fighters—however, you can often catch me jamming to British pop and 80's metal.
Vacation Spot: My ideal vacation includes finding solitude in the woods and setting up camp with good company and a deck of cards. Being near water makes me feel at home, so camping near a lake or valley to catch some swimming is my favorite.
TV: Games of Thrones ought to be about the only TV series I'm a die-hard fan of. Otherwise, I like The Profit, Shark-Tank, and most 90's re-runs.
Book: My all-time favorite book is Harley, Like a Person by Cat Bauer.
Food: I am a nacho connoisseur—always looking for a new and delicious nacho platter at any location.
I spent 10 years competing in dance; my favorite was hip-hop choreography. I also enjoy cooking, hiking, tennis, card games and playing darts.
Random Facts about Me (3)
I put hot sauce on everything edible. The spicier, the better.
I play hard—I've broken bones upwards of 15+ times.
My great-great grandmother was a famous actress in the 1920's—Greta Garbo.