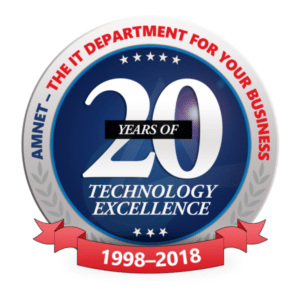 Why? Because that was the year Amnet was founded – and what a great year it was!
Apple introduced the iMac.
The MP3 Player was invented.
Microsoft Windows 98 was released.
Intel invented the first Xeon
Blackberry was the phone to use.
Our fearless leader, Trevor Dierdorff, (a true entrepreneur, computer geek, and wanna-be golfer) founded Amnet in 1998 to serve his fellow entrepreneurs by improving and growing their businesses with the right technologies.
Now, 20 years later, Amnet is the preeminent IT support company for organizations along the Front Range. This is because Trevor and our team have always been passionate about technology and working to improve the communities we share.
Amnet succeeds because our clients succeed. We take the time to get to know them so that we can understand their pains and goals. Then we build a strategy to help them achieve these goals and eliminate their IT stresses. As a result, our clients are now more competitive, productive, and profitable.
Our Gift to You
Contact us and we'll be happy to tell you how you can save money, time, and achieve your goals with any number of our IT services and solutions. We can conduct an IT Checkup to ensure your technology is up to speed and performing as it should.
Technology has simplified the way you do business. But it also poses some complex challenges. To successfully maneuver today's ever-changing technology landscape, you need the advice of IT Experts like the ones at Amnet in Colorado Springs, Denver, and Pueblo. We'll ensure you have the cost-effective, business-aligned technology solutions you need to succeed.
Amnet is unlike other IT service firms in Colorado. In addition to serving a multitude of industries, our professionals are experts in IT strategies for:
Nonprofits
Healthcare Organizations
Manufacturing Companies
Construction Companies
Public Services
Fire Departments
They provide the comprehensive advice, implementation, and support for business technologies with expertly designed strategies and solutions including:  
Organizational Design to update inefficient processes, streamline operations, and increase your staff's productivity.
Strategy Development that will support your mission and vision to help you achieve your overall business goals.
IT Budget Development with cost-conscious solutions that include everything you need for today and tomorrow.
IT Security Consulting to ensure security controls are in place and properly integrated into your technology environment.
Maintenance and Support Solutions to maintain and monitor your IT to prevent downtime from occurring, and proactively protect your technology investments.
Cloud Strategies to help you maximize productivity and save money with online software, email access, shared calendars, document control, and financial management applications.
Business Continuity Strategies with a backup and recovery plan that will ensure your business data and systems are safe, secure, and always there when you need them.
Procurement of Hardware and Software to save you money and avoid the problems that come with outdated IT equipment and software.
IT Compliance with HIPAA and industry regulations.
The Icing on The Cake!
We know that it's harder than it should be to get the maximum return on your IT investment because too many other support teams aren't really giving you what you need. The Team at Amnet will! We provide our clients customized IT service, support, and solutions to help their businesses thrive.
Once you get the right support for your technology, you'll finally have the freedom to work with peace of mind; no more being sidetracked by IT issues or unanswered questions. Your productivity will increase as your work gets even more effective.
We know that you can't afford to be left in the dark when it comes to your technology. A strategic IT plan made specifically for your business ensures that you're always aware of what we're doing with your system. Your goals, budget, and unique industry requirements are our top priority when creating IT plans.
You don't have to sit around losing productivity waiting for us to show up when an issue occurs – we work remotely to fix problems right away.
Even if you just need some helpful tips on how to use applications, you can get in touch. We're here to help with all of your technology needs.
Once we assess the performance of your tech infrastructure and ensure it's operating at optimal functionality, and we make sure you're using the IT solutions, service and support that's right for your unique requirements. You'll then have all the IT essentials for success you've always been looking for.
Our approach, our team, and our 20-year history have propelled Amnet to be the Premier IT Partner in Colorado. Join us in our celebration and learn how we can revolutionize your IT investments by coupling operational efficiency with strategic business enablement.
Yes, 1998 was a great year, but 2018 is going to be even better as more businesses partner with us to embrace IT solutions that improve their effectiveness, efficiency, and profitability. That's the best birthday present we could ever wish for!