Wi-Fi isn't just for your computer anymore. These days Wi-Fi is changing the way we make calls from our cellular phones, and this way of calling has a lot to offer. Instead of using the minutes from your cellular plan, you can make a call by connecting to a Wi-Fi signal. Depending on your plan, you can end up saving a lot of money each month by using Wi-Fi instead of plan minutes.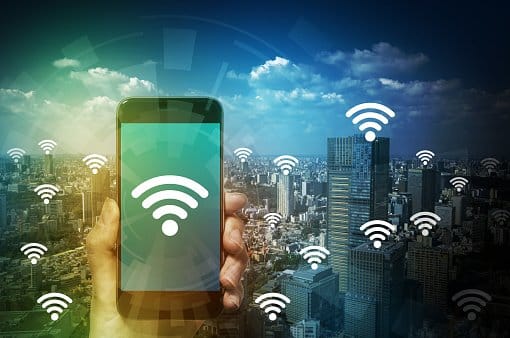 How Does Wi-Fi Calling Work?
It works like this. Wi-Fi calling hinges on a technology called SIP/IMS (IP Multimedia Subset), a technology that lets your phone make and receive phone calls using a regular Wi-Fi network. IMS was originally created for mobile applications, primarily allowing the convergence of data, speech, and mobile network technology over IP-based infrastructure. IMS can be examined with its layered construction, which includes many layers with different functionalities. SIP is a session control protocol which exists in the application layer and can complete multimedia session establishment and modification. Normally, SIP devices communicate with each other using SIP servers which provide an infrastructure for routing and authentication services.
Depending on where you live, you may not have great cellular coverage – sometimes even more populated areas can have signal issues, and rural areas may always have a hard time receiving a signal. This is one of can be especially the key reasons as to why Wi-Fi calling is becoming more popular. T-Mobile is the biggest supporter of Wi-Fi calling to date, and yet many people still don't know that it exists, because some carriers are slow to accept the process. With carriers who do support this service, it allows for clearer, better calls. Whereas not all phones support Wi-Fi calling, with each new generation of the device released, more are coming on board.
The Cost of Wi-Fi Calling
If you're calling throughout the United States, there's good news – everything is free. However, internationally, the price of a call will vary. All major networks allow for international calling, but they don't all charge the same. Whereas T-Mobile lets you make and receive Wi-Fi calls for free from more than 140 countries, Sprint customers can call from over 200 countries, with a few exceptions to country and phone. However, four of its Android phones don't support international Wi-Fi calling at all. Unless you have an iPhone running iOS 9.3, both AT&T and Verizon charge for international Wi-Fi calls, whether you buy an international plan or pay per use. It's also worth noting that most carriers allow you to make free calls back to the U.S. if you're traveling out of the country.
The Specifics
So, if you're ready to take a step into the future, here are detailed instructions, provided by Marc Mintz of Mintzit.com, on how to set-up your Wi-Fi calling:
Be in range of a Wi-Fi network for which you have the password.
On your iOS phone, open Settings > Wi-Fi. It should show that you are connected to the Wi-Fi network. If not, tap Wi-Fi, in the Wi-Fi screen, enable Wi-Fi, select the target Wi-Fi network, and then enter the network password.
At the top left corner of the screen, tap Settings to return to the Settings screen.
In the Settings screen, scroll down and then tap on
In the Phone screen, enable Wi-Fi Calling.
In the Wi-Fi Calling screen, enable Wi-Fi Calling on This iPhone.
An alert will appear "Enable Wi-Fi Calling?" Tap
Enable Prefer Wi-Fi While Roaming.
When on the Wi-Fi network, 911 operators can't determine your location as quickly as they can when on the cellular network. If you will be using Wi-Fi calling primarily at home, tap Update Emergency Address, and then enter that address.
When done, scroll down to Terms & Conditions, tap the "By using this service…", and then tap
The Future Is Bright
Wi-Fi calling may be nothing new, but it is making more headlines lately. Apps like Skype have been around for a while, but a new trend in phone buying sees people opting for a Wi-Fi cell phone instead (also called a cellular-Internet phone or cell-Internet phone). These phones can automatically switch between regular cellular and Wi-Fi VoIP modes, even in the middle of a conversation.
HELP! My Carrier Doesn't Support Wi-Fi Calling
If your phone carrier doesn't technically support Wi-Fi Calling, don't worry. There are a lot of apps out there to choose from that will let you make calls over Wi-Fi (note – not all apps are free):
Wi-Fi Calling Unlimited Free
Talkatone
You like it. You want it. You just have to have it. What are you waiting for? Grab your phone and give it a try. Happy dialing.