It happens to all of us at some point – you're sitting by someone who whips out this über cool gadget, and you can't take your eyes off of it. You have to know what it does… and where you can buy one! Read on for eye candy just like this.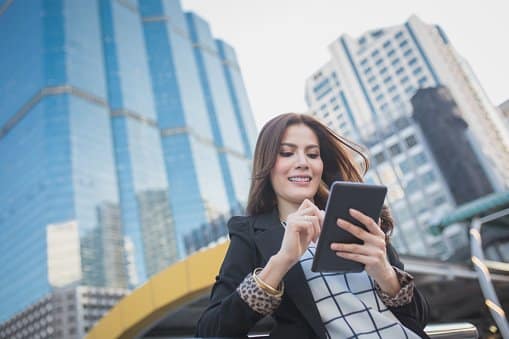 We've all been there: Gadget Envy. We want the smartest phone, the thinnest tablet, the fastest Internet speeds, the strongest network connection, the battery that never dies – the list goes on. Part of this is due to our busy lifestyles, and part is from our never-ending quest to get more done in less time. The best gadgets combine advanced technological features with enhanced productivity.
The options are endless, but we've narrowed our list to 5 categories with the top tech that today's savvy CEO will have – along with the envy of everyone nearby!
Sound
We know you get perturbed by the pathetic volume of your laptop speakers. Amplification is impossible in atmospheres where white noise is loud, like airports. While the settings on newer laptops and tablets are growing in sophistication, they still lack in sound quality. Here are a couple of solutions to help.
The ICE Harmony, Floating Bluetooth Speaker packs powerful sound in a colossally cool package. The spinning speaker floats above the base with concealed (read, secret) magnets to maintain the floating position. The design results in a 3D sound effect and can be used separately from its base, giving the user portable and potent sound, connecting to smartphones or tablets via Bluetooth.
A simple-to-use Startech USB Stereo Audio Adapter helps your laptop with the addition of SPDIF digital output. Designed for Windows-based machines (sorry, Mac lovers), it functions as though users add a 5.1 sound card and is quite compact but also has a set of two headphone jacks.
Secure Storage
So, you need to bring files along for the ride but live in fear of losing your thumb drive? We have a couple of cool ideas for you.
The Aegis Secure Key 3Z is a super-tough USB storage device made from sturdy metal and uses top-of-the-line technology for encryption, plus a physical keypad for which the user can set a custom PIN for secure entry.
PIN-protected storage is a popular choice these days. DiskAshur Pro is another option to secure up to 500GB of data with a customizable PIN, of between seven and 15 characters.
Aegis makes this list with not one but two options, with its Apricorn Secure Key USB 3.0 480GB Flash Drive. Using a 10-key alphanumeric keypad with a dust-proof and waterproof enclosure, this storage solution means business. This one is on the list and has received accolades from NIST, the National Institute of Standards and Technology, a U.S.-based entity that oversees government IT security.
Power
The perennial power problem: your power capability does not match your mobile lifestyle or needs. In other words, your battery dies faster than the mother in a Disney movie and you need a backup solution.
Have you checked out the Orico SC28 Mobile Power Bank? With promises to power you all day, this one is designed for laptops instead of smartphones – for which power banks are everywhere. Recharging via USB or the old standby (wall plug-in), up to three devices at once can benefit from this baby.
The Jackery Titan S is a stylish portable battery charger whose claim to fame is its flexibility: it is also friendly to the MacBook.
The feature-filled Sandberg Laptop Powerbank charges quickly, supports (and automatically detects) multiple voltages, and comes with a dozen charge tips.
Mobile Hotspots
Our addiction to data is endless, and with the growing number of wireless providers offering unlimited data, we find ourselves using our smartphones as hotspots. Our ultimate battle is the need to connect versus the need to preserve smartphone battery life. Enter the mobile hotspot device!
The KnowRoaming Global Hotspot aims to provide seamless and simplified global connection in more than 140 countries, with unlimited data in more than 90, but only to corporate accounts now. The daily flat fee service is especially a bonus for those who travel to countries like Japan, where connectivity is ridiculously expensive for foreign travelers. About the size of a matchbox, the device battery lasts for up to 20 hours and supports 3G, although LTE is pending.
Boasting speed and simplicity, the TP-Link M7650 Mobile Wi-Fi Hotspot claims to be the fastest Wi-Fi router ever made, capable of streaming video to a user's laptop or tablet and can support up to 32 devices at once – enough for an entire small office.
Just Cool Stuff
Here's where things get awesome! These items didn't fit into any of the categories above but couldn't be left off this list. Just trust us and read on.
A notebook that you put in the microwave to erase everything you wrote (or doodled)? Yep! Well, I am using a Pilot FriXion pen, but still, the Rocketbook Wave is an incredible gadget. Not only can the microwave erase all your writing when you're ready to start fresh, but you can mark an icon to represent where you want your notes sent. Everything you write is stored in your account on Google Drive, Dropbox, OneDrive, Slack, iMessage, email, and so much more. Using your smartphone and the Rocketbook mobile app, you scan your notes, and voila! The Rocketbook Everlast erases with a dampened cloth instead and can be reused in the same way.
Moleskine, the cult favorite notebook maker, brings you the Smart Writing Set. This set includes the smart Pen+ tool that sends your writing to the Bluetooth-connected phone or tablet to display using the Moleskine Notes app, and your notes are editable within the app (highlights, scribbles, etc.).
Want to wow your crowd in a presentation? Logitech makes a Spotlight Presentation Remote that looks super cool when in use, including the ability to magnify and highlight selections on-screen, with Bluetooth connectivity. There is also a cool built-in timer that shows (only you) how long you've been talking and can give a subtle vibration at a pre-set timed interval.
Try the Gyration Air Mouse Voice with your presentation, which can act as a standard wireless mouse but also has built-in microphones to work with voice recognition as you get through slides. Voice commands can zoom, open web browsers, etc., with the push of a button.
This is just the tip of the tech iceberg; we know – but we're pretty sure you'll be as fascinated with the items on this list as we are. One thing we know for certain? You can't wait to try them out and be the envy of someone else!