Get a sleek, new inbox!
How many email items do you have in your inbox in Outlook? Zero? Ten? Ten Thousand? Does it feel that you'll never catch up? Perhaps getting organized will help you sort through the clutter.
Rules have long been a part of Outlook from early releases. Unfortunately, they are rarely used by people.
The Rules feature in Outlook applies settings to email messages as they're received into Outlook. Messages can be automatically moved to other folders, deleted, forwarded, flagged and much more.
There are two ways to setup Rules in Outlook. You can use the Manage Rules and Alerts area. This is where you can modify rules, create rules, or delete rules in Outlook. To start though, we'll use the Rules wizard.
In Outlook, with an email selected, click on the Rules button and you should see a drop-down: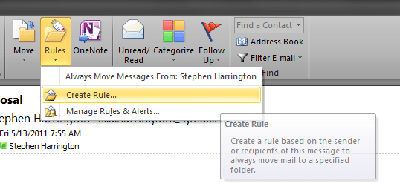 Select Create Rule. Next, you can specify what you want done to the message. First, select the conditions settings that you wish to modify in the top portion. Here is where you are specifying that you only want actions taken if the email matches these specifications. So, in this example, I can say that I want actions taken if the email comes from Stephen Harrington, or if the email subject contains the word "Proposal", or if the email is sent only to my email address.
In the second section, you outline what actions you want Outlook to perform if the conditions are met.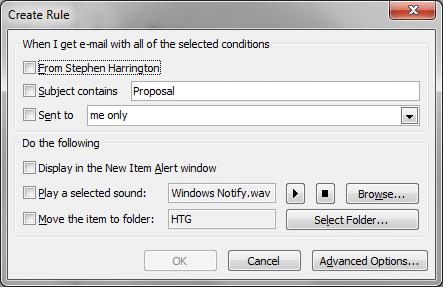 If you need conditions or rules that are not shown above, click on the Advanced Options button for this screen: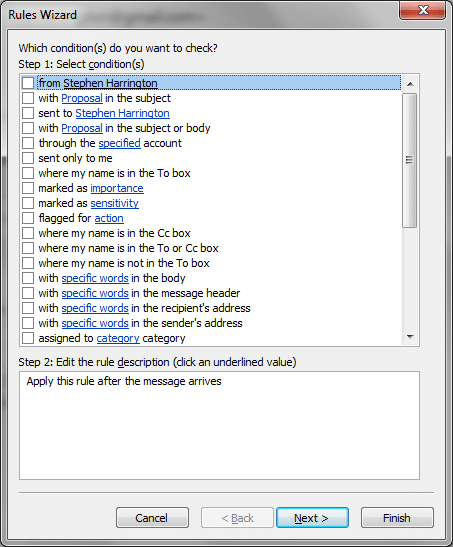 These screens provide you with the full list of options that Outlook can use as conditions and rules for new email received. After you select the conditions and rules, you may receive a notification like this:

Please be mindful of checking the option to run the rule on the messages in the current folder, particularly if you chose rules that include forwarding or deleting. Checking this may result in unwanted consequences.
If you need to remove a rule, modify a rule, or even create a new one, you can do so in the Rules and Alerts window which is accessed from the Rules button by selecting Manage Rules and Alerts.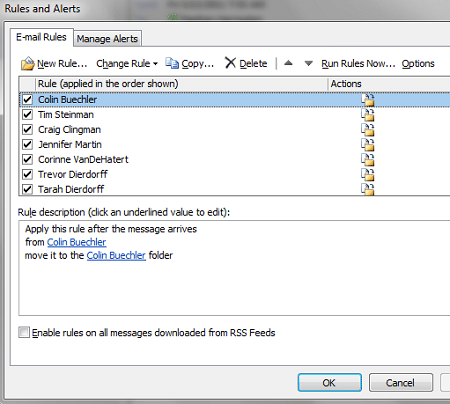 Using rules is one way to help remove some of the clutter from your inbox and restore order to Outlook.