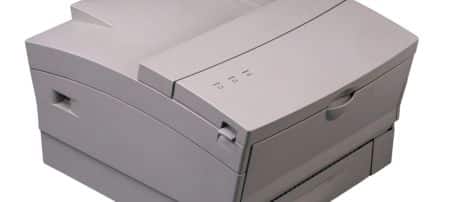 Can my computer select the best printer based on my location?
It would be really nice if my laptop would automatically print to my home printer when at home and then switch to my office printer when at work. Is this possible?
Yes! Windows 7 has a component called location-aware printing but it is only available in premium flavors of Windows 7 (Professional, Ultimate, and Enterprise). This feature allows for you to specify a different default printer for each network you connect to and then Windows 7 will switch automatically.
Open Devices and Printers on your laptop. Select a printer under Printers and Faxes. You should see an option toward the top of your screen called Manage default printers.
Note: If you are using a Windows 7 desktop system, you may not see this option as it is meant for mobile computing devices such as laptops.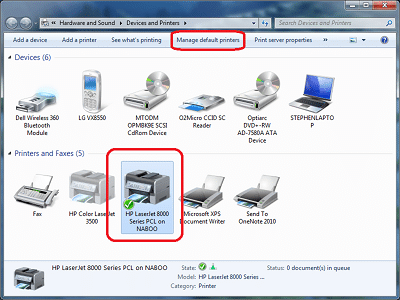 A screen will open allowing you to specify if you want to enable location-aware printing or leave it disabled.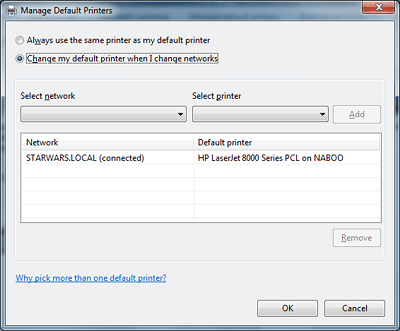 To specify a printer for a network, simply select the network from the first drop-down.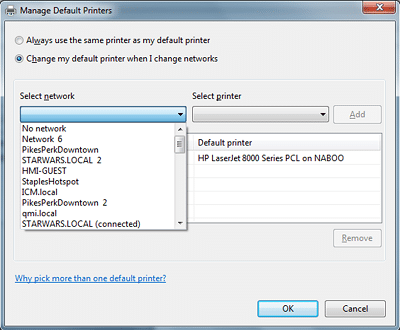 Select one of your installed printers from the second drop-down box.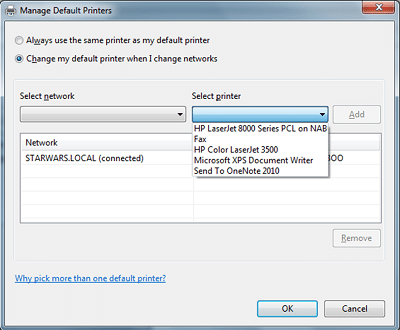 Click the Add button and then OK and your settings will be saved. Now when you plug into the network you specified, your default printer will automatically change.