Born and raised in Colorado Springs, Brandon attended University of Colorado, Boulder and majored in Studio Arts with an emphasis in Video Production and Multimedia Studies.
His biggest strengths are organization, creative thinking, and attention to detail. Brandon loves that Amnet is family owned and operated, and is a company that values its employees and clients.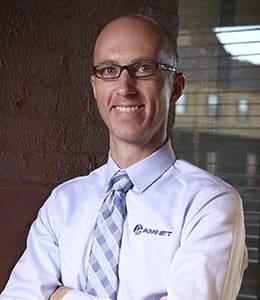 He was drawn to technology because it's endlessly interesting. His music taste is eclectic, ranging from hip-hop to punk rock to country to classical. Some of his favorite movies are Top Gun, Fight Club, The Royal Tanenbaum's, Mulholland Drive, and Pulp Fiction. He's not much of a TV watcher, but has been enjoying Mr. Robot, and likes books about outdoor adventure, finance, and stock trading.
His ideal vacation spot is anywhere with big, tall mountains, lots of trees, and fresh water. He especially loves the Sangre de Cristo Mountains here in Colorado.
Not one for take-out, Brandon likes to cook fresh, healthy foods at home. His hobbies include trail running, climbing in the bouldering gym, and keeping up with news and current events. A few fun facts about Brandon – he lived out of a camping trailer for about one year traveling around Colorado, Utah, and Arizona, and was once left at a gas station while on a family road trip. (But don't worry! His parents came back for him after only a couple minutes.)
Want to get to know the rest of the Amnet team? Connect with the top IT service provider in Colorado Springs today! We'll be happy to discuss your business IT needs, so call us at (719) 442 – 6683 or email info@amnet.net.