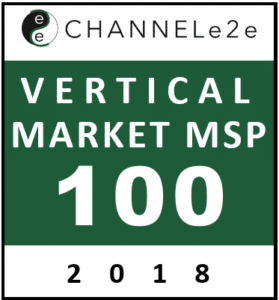 COLORADO SPRINGS, CO – (March 19, 2018) – Amnet has been named to After Nines Inc.'s ChannelE2E Top 100 Vertical Market MSPs list and research (http://www.channelE2E.com/top100) for 2018. The annual list and research identify and honor the top 100 managed services providers (MSPs) in healthcare, government, financial services, manufacturing, and additional vertical markets.
The Top 100 Vertical Market MSPs rankings are based on ChannelE2E's Q4 2017 and January 2018 readership survey, and ChannelE2E's vertical market industry coverage. MSPs featured throughout the list and research leverage deep vertical market expertise to drive annual recurring revenues (ARR) in specific market segments.
This year's research revealed several key MSP market trends. Among the Top 100 Vertical Market MSPs for 2018:
Honorees generated a combined $277.3 million in vertical market annual recurring revenue (ARR) for 2017, up from $247.6 million in 2016.
Honorees are managing a combined 574 million users.
The most successful vertical market MSPs are zeroing in on healthcare and financial services, while manufacturing and legal sector activities are accelerating.
Amnet was ranked #59 among the top vertical market MSPs in the Construction industry.
About Amnet
Amnet is a leading IT Managed Service Provider (MSP) that businesses throughout Colorado Springs, Denver, and Pueblo trust to maintain and optimize their IT environments. With a focused vision on generating prosperity for clients, Amnet serves companies both large and small across Colorado by providing extensive IT support innovation and implementation.
About After Nines Inc.
After Nines Inc. provides timeless IT guidance for strategic partners and IT security professionals across ChannelE2E (www.ChannelE2E.com) and MSSP Alert (www.MSSPAlert.com). ChannelE2E tracks every stage of the IT service provider journey — from entrepreneur to exit. MSSP Alert is the global voice for Managed Security Services Providers (MSSPs).
For sponsorship information contact After Nines Inc. CEO Amy Katz, Amy@AfterNines.com
For content and editorial questions contact After Nines Inc. Content Czar Joe Panettieri, Joe@AfterNines.com